Jenna & Adam | 02.24.2018 | Ceremony, Cocktail Hour, Dinner & Reception
On Saturday, February 24th, 2018, the BVQ had the honor of playing Jenna & Adam's entire wedding! Many people hire a DJ for their entire wedding forgetting that there are many different options when it comes to hiring musicians for their special day!
For Jenna & Adam's special day, the BVQ played for their wedding ceremony, cocktail hour, dinner, & reception! The end of the night erupted into a dance party when the maid of honor requested popular songs be played from her Iphone. Along with playing covers of popular songs, the BVQ is also able to play live with any playlist of songs. Since the BVQ has the capability of plugging in and playing electric, this enables any combination of BVQ musicians to be hired to play for a reception that includes dancing!
By hiring the entire quartet for your wedding, there is flexibility you might not realize. The venue Jenna & Adam chose for their cocktail hour, dinner, & reception was a lovely old mansion in Portland, Maine. Because there were several rooms in the venue, during cocktail hour & dinner, the BVQ broke up into duos placed at opposite rooms so that guests heard music wherever they were!
"Congratulations Adam and Jenna
Write a note to the happy couple here"
For more information on rates & various BVQ packages, click here!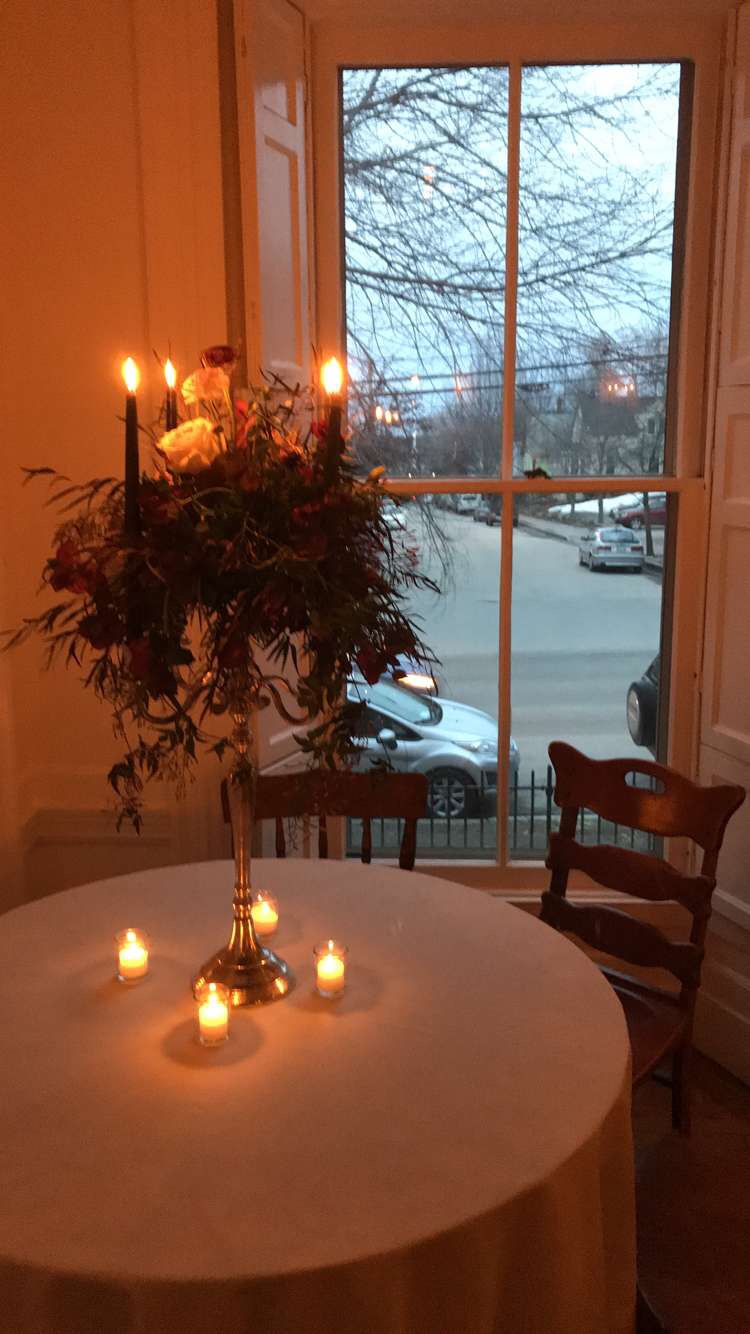 Congratulations Jenna & Adam!
Jenna & Adam's wedding vendors:
Wedding Coordinator: Nicole Mower Weddings & Events
Officiant: Rev. Jeffery W. Monroe (St. Margaret of Scotland Anglican Church)
Rentals: One Stop Event Rentals, NMWE
Photographer: Ellen The Light + Color
Caterer: The Danforth Inn
Bartenders: The Danforth Inn
Musicians: The Blackstone Valley String Quartet
Stationery: Alfonsina- AMR Calligraphy
Florist: Heidi- Flowers by Leslie/NMWE
Cake: Jaime- Autumn Nomad Cakes
Hair + Makeup: Ariel Johnson H+MU
Transportation: Atlantic Limousine Maine
Additional Hotels: The Press Hotel, 119 Exchange St, Portland, ME
Ceremony Location: The Episcopal Church of Saint Mary, 43 Foreside Road, Falmouth, ME
Reception Location: The Danforth Inn, 163 Danforth St, Portland, ME